Welcome to the Belmont and South Cheam Residents' Association




On this site you will find information about the Association and how to become a member, together with a variety of links to other services, including those run by the Council.
The Belmont & South Cheam Residents' Association (BSCRA) has been in existence for over 50 years and has over 2,300 members in the Belmont and South Cheam area. We are one of the largest and most active residents' associations in the London Borough of Sutton. The Association is concerned with anything in our area that impacts on the quality of life enjoyed by residents. We give our members support on a wide variety of local issues and provide feedback to the local council (and other bodies) with the views of our members in response to formal consultations relevant to our area. We work closely in conjunction with our Ward Councillors, we are represented on the council's Local Committee, on the police Safer Neighbourhood Ward Panels and have close links with Neighbourhood Watch.

Topics where we routinely assist members include:
Planning: Planning policy, major extensions to house, infill housing, proposals for flats, change of use, businesses in private houses, major redevelopments, care homes
Environment: Waste collection, street cleaning, graffiti, protection of parks and roadside trees
Traffic and Parking: Speeding, traffic calming, road junctions, commuter and school parking
In addition to the above we have recently been heavily involved in:
1) Seeking to ensure residents received appropriate support during the Covid-19 pandemic through offerings from the Council or volunteer help
2) Creating a draft Neighbourhood Plan covering our area. This contains many important initiatives and projects. A draft version has been distributed for Public Consultation and we are currently assessing the feedback received. For more information on the Plan see our separate website Belmont Vision.
3) Maintaining a very close watch on the developments at the London Cancer Hub located on the former Sutton Hospital site. This encompasses the Institute of Cancer Research, the Royal Marsden Hospital (and its the new Oaks Cancer Care Centre) and the new Epsom & St Helier Specialist Emergency Care Hospital.
Our Area
Our area covers all of South Cheam (south of the railway line) and the southern part of
Belmont
stretching in the east to
Banstead Road South.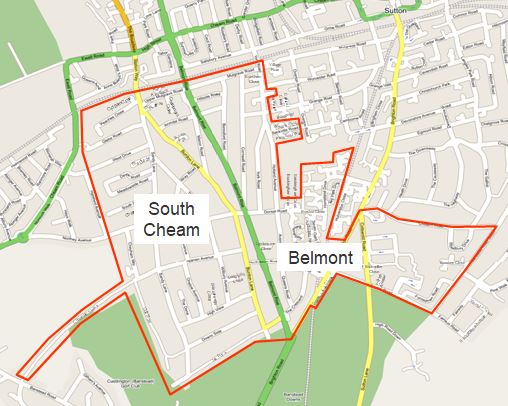 Belmont & South Cheam Residents' Association Area (click here for a more detailed map)
If you live or run a business within our Membership area and would like to join the Association then email Peter Mattey at the email address below.


Apologies for removing the clickable link to the above email address. This is to minimise SPAM!
Please send your request from the email address you would like us to use for sending emails to you and provide your postal address.
Subscribe Now
Membership of the Association costs £2 per year. Details of how to pay your subscription, including the use of our new secure and easy to use Online Subscription service, are given on the Subscribe page.
If you are an existing member of the Association, you will be aware that we have not been asking you for payment during the COVID-19 pandemic. However, we are asking members to renew their membership as from 1st January 2022 and details of how to do this are also given on the Subscribe page.
BSCRA Website
The site was last updated on 24th March 2022.